So long as Cruz and Rubio stay viable Trump wins. His rivals did just that in the debate last night, landing punches that will encourage their donors.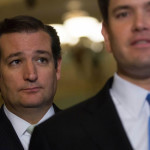 The best news for Trump is that Cruz might win his home state of Texas next week. And that Rubio is the darling of establishment Republicans who despise Trump and Cruz.
Two-thirds of GOP voters don't want Trump, but so long as they are split between his rivals his one-third keeps him on top. If Trump can keep these two humming while he whistles past them he will be the presumptive nominee by late March.