By Jamie, a Trail Mix Contributor
It is that time of the year Trailmix and your favorite bookie is ready to take on all comers for absolutely no wealth and really negligible fame but at least some two minutes of genuine excitement following over two hours of network chit chat.
In commentary about the Derby, broadcasters often fill time with stories of which horses come from the same barn, were originally owned by the same owners but now belong to competitors and most fun of all who is related to whom.
This year's Derby is unusually internecine in the rivalries.  People who follow horses have one place they love to go to add some weight to the scales by determining the lineage of a thoroughbred.  Pedigree Query who will let you look up the past five generations of a horse for free.  For money they will let you in on all the family gossip and any skeletons dancing in the closet.
A horse's name will often reflect some previously famous relative.  For instance if you see a name related to Terpsichory, you can almost bet Native Dancer or his son Northern Dancer contributed to their DNA.  One advantage to being a great stallion is that he usually gets to retire at a young age to life of luxury and ease while "standing at stud" to a lot of lovely mares in hopes that money making history will repeat itself.  This year, the boys have been busy.
Scat Daddy
Sire:  Scat Daddy was a multiple grade I winner and sire of 69 stakes winners.  He unexpectedly died young in 2015, but the last of his foals will be three years old for a Derby run this year:  Justify, Mendelssohn, Flameaway, and Combatant are half brothers.  There are two half sisters who are stakes winners but haven't qualified for the Oaks:  Daddy Is A Legend and Drunk Philosophy.
Medaglia D'Oro
Sire:  Medaglia D'Oro has both Bolt d'Oro and Enticed eligible for the Derby and Wonder Dagot in the Oaks
Curlin
One of my favorite horses of all time, the beautiful Curlin is responsible for Good Magic, Solomini, and Vino Rosso in the Derby and Dixie Moon in the Oaks.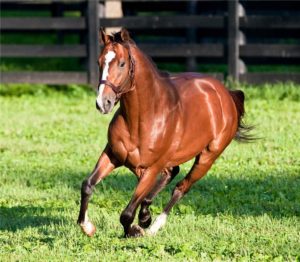 Into Mischief
If you are into Harry Potter, then take a look at Audible in the Derby or Classy Act in the Oaks, both sired by Into Mischief.
If you like to have fun playing hunches, then look for heritage that reflects something in your life.  My grandfather and his family in Scotland back many generations were miners.  You can bet I look very closely at any of the offspring of Mine Shaft.  He doesn't have any kids in the Derby this year, but his stakes winner offspring are tied in number with Malibu Moon who fathered this year's Magnum Moon.
Have fun researching your horse and place your bets.  They are approaching the gate and ready to run.
More Posts by Jamie