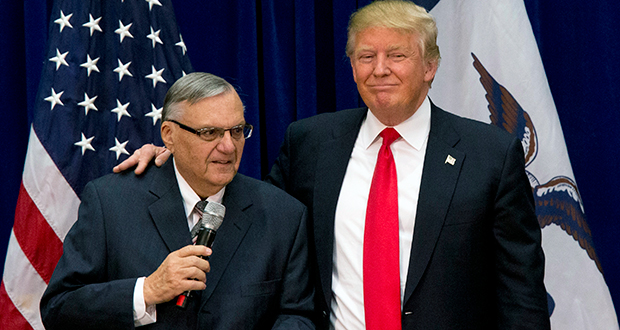 By eProf2, a Trail Mix Contributor
Almost lost in the crisis of Trump's moral leadership stemming from the Charlottesville confrontation this past weekend has been the speculation that the president would be pardoning his biggest supporter in Arizona, former Sheriff Joe Arpaio. According to several press reports and the president himself retweeting a Fox news story, the idea of a pardon for the guilty Sheriff seems imminent .
Here in Arizona, the Sheriff said he would welcome the pardon. A pardon from what? The long-time Sheriff of Maricopa County, which includes Phoenix, was recently found guilty of criminal contempt for defying a state judge's order to cease and desist from racial profiling over many years while the county's leading enforcement officer. The Sheriff's target: Hispanics and other minority groups.
The irony of the timing has not been lost on civil rights groups and activists. The president can only read words from a monitor condemning overt racists responsible for organizing the Charlottesville confrontation. Within hours of his insincere condemnations, the idea of pardoning a racist supporter was all too clear as to the president's true feelings about racism and his own culpability in promoting racism and racist policies.
There are a litany of racist sentiments expressed by this president going back years. The litany of racism from the 45th president is long, and a historical fact.
Sheriff Joe's history of racism is equally long and a historical fact. The Arizona Republic, the leading state and local newspaper, has been reporting on the racist activities of Sheriff Joe for years. It's only been reported nationally since the president's entry into national politics.
How did the vile racism of Sheriff Joe and other leading Arizona politicians come about? As I wrote in a previous post about Arizona politics, Arizona, and especially Phoenix, is a very white community from decades of massive migration into the Phoenix area from northern states and Southern California. Politicians would win, and still do win elections by promising to build a wall to stop "the rapists, the criminals, and eliminate the drug traffic" coming from south of the border. Huge numbers of voters, new to the state, believed the negative views of racists and would vote for the politicians who promised security from the hordes crossing the border.
Never mind, that the millions of Mexicans who came to the state, some legally and some illegally, would be the source of Arizona's wealthy economy. Still, Mexicans became the object of fear for politicians to exploit. In the lead was Sheriff Joe Arpaio.
Trump won Arizona by a huge margin using the same language of racism that won political office for Sheriff Joe. Trump so far is only talking a racist line but Sheriff Joe walked that racist line and today faces a long term prison sentence unless President Trump pardons him. One racist helping another! As Trump himself would say: "Sad!"
More Posts by eProf2