— Ojibwe, Native American Song
By Blue Bronc, a Trail Mix Contributor (also, see PatD below)
This is a fine time for a holiday.  It is also a holiday which occasionally, most of the time really, has lost its meaning.  This is when we honor those military and other uniformed services members who have lost their lives protecting these United States.  One of those, a Navy seaman, was my great-uncle.
His ship was not a fighting ship and not a large ship either.  She was a converted civilian cargo ship, her keel laid in 1913, and after civilian service she was commissioned to the U.S. Navy July 26, 1918.  In service for not eight weeks she was sunk by a German submarine torpedo September 16, 1918. * My great-uncle's body was never recovered.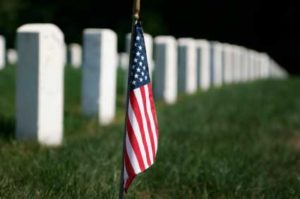 From the Revolutionary War on, many of my ancestors answered the call for volunteers to fight for the United States.  Dying is not on the list of reasons to enlist by most.  Yet is one of the reasons to not join used by so many.  They may not say it out loud very often.  Listen to the many excuses-reasons for not enlisting.
My grandfather loved his brother very much.  So much so he enlisted as soon as he turned eighteen.  But, by that time WWI had ended and his hate of Germans had to be quenched.  He loved the Navy too.  But he, like all others of my family, were not career military, we were enlistees who served and then returned to civilian life.
Many of my friends and co-workers are veterans.  They have their stories of family and friends in the military.  They too look at this weekend as a holiday.  We each have ways of remembering and honoring our dead.
*His name is the second name of the enlisted dead.
More Posts by Blue Bronc
——————————–
Submitted by PatD, a Trail Mix Contributor
Presidential Proclamation
In honor of all of our fallen service members, the Congress, by a joint resolution approved May 11, 1950, as amended (36 U.S.C. 116), has requested the President issue a proclamation calling on the people of the United States to observe each Memorial Day as a day of prayer for permanent peace and designating a period on that day when the people of the United States might unite in prayer. The Congress, by Public Law 106-579, has also designated 3:00 p.m. local time on that day as a time for all Americans to observe, in their own way, the National Moment of Remembrance.
NOW, THEREFORE, I, BARACK OBAMA, President of the United States of America, do hereby proclaim Memorial Day, May 30, 2016, as a day of prayer for permanent peace, and I designate the hour beginning in each locality at 11:00 a.m. of that day as a time during which people may unite in prayer.
I also ask all Americans to observe the National Moment of Remembrance beginning at 3:00 p.m. local time on Memorial Day. I request the Governors of the United States and its Territories, and the appropriate officials of all units of government, to direct that the flag be flown at half-staff until noon on this Memorial Day on all buildings, grounds, and naval vessels throughout the United States and in all areas under its jurisdiction and control. I also request the people of the United States to display the flag at half-staff from their homes for the customary forenoon period.
Army Rangers Release Memorial Day Song From Afghanistan
https://youtu.be/HZvUAD0wGOc
More Posts by PatD