Last Thursday the last 3 presidents plus a message from a fourth honored John Lewis and reminded us what presidents look like. WaPo covered it well.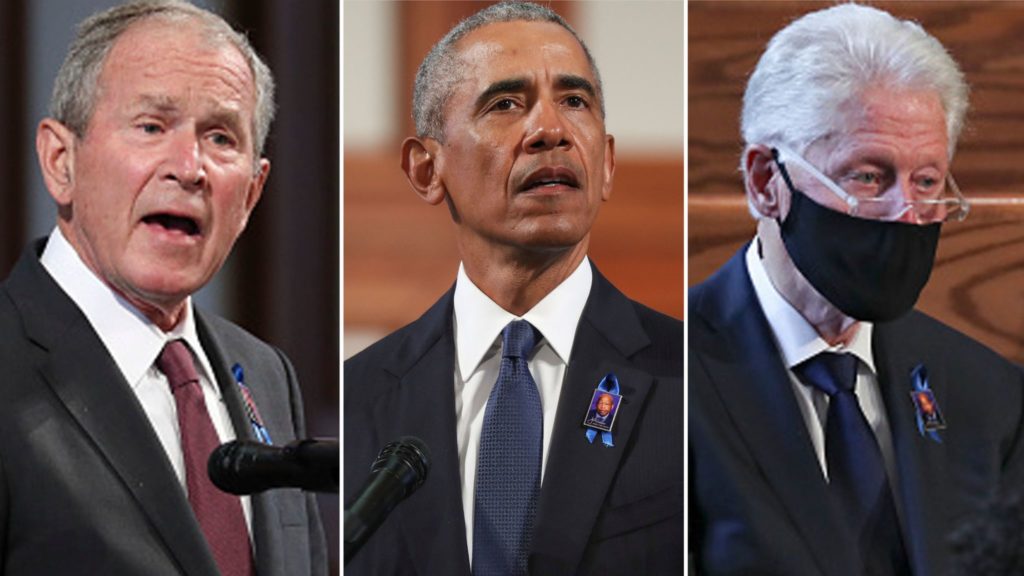 George W. Bush, Barack Obama and Bill Clinton put on masks and traveled to Atlanta's Ebenezer Baptist Church to say goodbye to a civil rights leader and Democratic House member who preached change, progress and hope. Donald Trump stayed home, spending the morning watching TV and tweeting, holding fast to his program of conflict, nostalgia and restoration.
Not one of the three former presidents mentioned his absent successor, yet each seemed to have him very much in mind:
"John Lewis always looked outward, not inward," Bush said.
Clinton said that Lewis "was here on a mission that was bigger than personal ambition."
And Obama said of Lewis that "he believed in us even when we don't believe in ourselves." A few minutes later, to hit that note even harder, Obama said the very same words, one more time.
The former presidents deployed classic rhetoric — quotations from Scripture, powerful silences and sweet allusions to Lewis's grace and humility — to describe how he earned a respect, and therefore a power, for which others shout in vain.

We don't see that anymore- except at funerals. Pity.