[On this date 50 years ago RFK died of gunshot wounds sustained the previous evening.]
For as a people, we as a people, are strong enough, we are brave enough to be told the truth of where we stand. This country needs honesty and candor in its political life and from the President of the United States. But I don't want to run for the Presidency  – I don't want America to make the critical choice of direction and leadership this year without confronting the truth. I don't want to win support of votes by hiding the American condition in false hopes or illusions. I want us to find out the promise of the future, what we can accomplish here in the United States, what this country does stand for and what is expected of us in the years ahead. And I also want us to know and examine where we've gone wrong. And I want all of us, young and old, to have a chance to build a better country and change the direction of the United States of America.
– Robert F. Kennedy, University of Kansas (March 18,1968)
***********
What we need in the United States is not division; what we need in the United States is not hatred; what we need in the United States is not violence or lawlessness, but love and wisdom, and compassion towards one another, and a feeling of justice towards those who still suffer within our country, whether they be white or whether they be black.
Even in our sleep, pain which cannot forget falls drop by drop upon the heart until, in our own despair, against our will, comes wisdom through the awful grace of God.
– Robert F. Kennedy, Indianapolis, Indiana (April 4, 1968)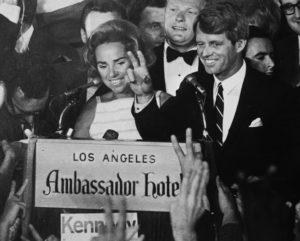 More Posts by SJWNY