By SJWNY, a Trail Mix Contributor
The NPR show On Point featured an interesting interview Tuesday with guest Erick Erickson. He talked about how we can have hundreds of followers on Twitter or friends on Facebook but not know the name of our next door neighbor.
Yep.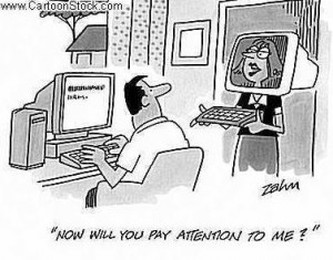 As a society we've lost the human part of humanity. This isn't some evil plan by outside forces, this is by our own doing. Technology is grand but at what price?
I tweet very little nowadays, only when the spirit moves me, which isn't often. Last year's political hoodoo & ensuing ugliness soured me right quick on social media.
Facebook has no appeal to me. I dabbled just long enough to realize it equaled the worst aspects of the world's biggest high school. Also the knowledge that many people I know are addicted to this stuff scares me  …. I got out before I really got in.
Do you know your neighbor? Take a walk & see the trees, hear the birds, notice the sunset? Is it too late as a society to realize what really matters: the people around us? The wall we have to worry about isn't the one built on the border; it is the wall we build around ourselves.
More Posts by SJWNY