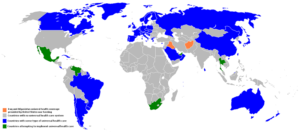 By Dvitale300, a Trail Mix Contributor
So – This map shows countries across the world and their health care systems.  Those countries in blue have universal health care.  Those countries in green are implementing universal health care.  The two orange countries have universal "war time" health care.
I was talking with my sister yesterday, an avid Republican who could never vote for that "bitch Clinton".  We first discussed the fact that she's still up to her hips in those Mexicans in Arizona and is waiting for the wall.  I gave her the bad news.
She is on the "Arizona Obama Exchange" for health care.  Said her coverage is going up about 80% this next year.  I told her that it's absolutely her fault for voting for that "sonuvabitch Trump".  She chuckled, and then went into this diatribe about what health care should be like in our country – and she described universal health care.  I told her it would never happen with her voting for Republicans.  She didn't get it – but alas, she IS a Republican.  In several other discussions I've had with my Republican friends, they end up talking about a health care system in America that has a lot of the universal health care flavor.
Perhaps it is time for a group of Democrats with testicles to just get up and propose universal health care – talking about nothing but the benefits – and the fact that the super-rich won't bet a billion dollar tax cut, but will help pay.  I know we'll be able to get 22 million new supporters by 2026.  Perhaps that will start the revolution?  What say ye?  Is it time?
More Posts by Dvitale300