By Dvitale300, a Trail Mix Contributor
In August of 1987, four FCC commissioners (1 appointed by Nixon, 3 appointed by Reagan), dismantled what was known as the "Fairness Doctrine".  The Fairness Doctrine had been in place since 1941 where it originally applied to radio broadcasts.
In a nutshell, the FD "established two forms of regulation on broadcasters: to provide adequate coverage of public issues, and to ensure that coverage fairly represented opposing views".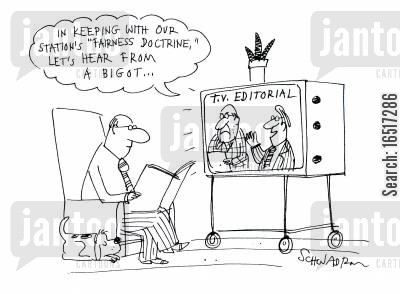 I remember watching television news broadcasts where opposing points of view were brought on screen to rebut an editorial or critical/controversial news story.  Sometimes it seemed a bit awkward, but usually you could tell in a few seconds whether the opposing viewpoint was BS or not.
While I realize we have an entirely different media schema today, with the passing of opposing newspapers in cities, and the plethora of cable and internet media (not to mention the fact that viewers of Faux News are statistically considered the most ignorant media consumers in our country); current politics and policy have arrived at the point in which perhaps a new Fairness Doctrine needs to be re-visited.
As a discussion topic point, Megyn Kelly is set to air an interview on NBC news this Sunday.  The interview is with Alex Jones, a renowned conspiracy guru who has said that 9-11 was an "inside job" and that Sandy Hook was fake in which no one died and the teachers and children were actors.
While JP Morgan Chase has cancelled all advertising on NBC until after the interview – is this enough?  Is it enough to let the free market system police what goes on the public airways?  Or, is it time to re-visit the Fairness Doctrine?
What say ye?
More Posts by Dvitale300