— Hugh Hefner, 2006.
By Blue Bronc, a Trail Mix Contributor
Death is a horrible way to die. WE all go, eventually. Just a day or so ago the oldest person on Earth died at the tender age of one hundred seventeen years.  The news reports she was the last person who was born in the 1800's.  Stunning to think of all she saw and experienced during those years.
Right now we have a person purposely poking a hot stick at a half together dictator in North Korea.  It is quite likely the dictator is the saner of the two.  Plus two other nasty powers are joining in the fray.  With Russia trying to recover the costs of getting the guy with a dead orange colored rat on his head into the White House, we can guess they are unhappy at his wild acts and may want him removed from power.  With China trying to maintain a safe distance from any nuclear fallout, we know they are not happy with the guy either.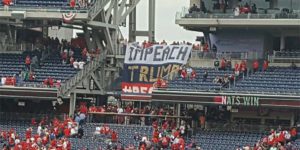 Is there anything to be done to stop the guy?  There is, but it takes some brass gonads by the Congress.  They can stop him.  Will they?  Although not quite one hundred days into the new presidency I am sure there has to be more than one or two republicans and a lot more Republicans ready to yell "STOP".
How soon will the impeachment start?  I hope before the end of summer.  He and his family, along with their friends will destroy us if left in power too long.  There seems to be an undercurrent with the phrase "treason" in its flow.  That is a very different issue. One which has very different final acts.
The most important thing is none of us want to die too early because the actions of some guy with a dead critter on his head.
More Posts by Blue Bronc