By GrannyMumanToog, a Trail Mix Contributor
We all need to be watchful and wary on election day. The article linked below pertains to Nebraska, but contains info that may be useful in this hateful climate of potential voter challenge and/or intimidation that we find ourselves facing in this election.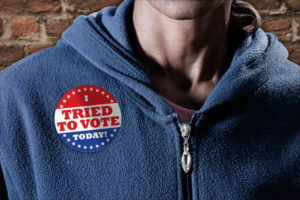 The article gave me ideas of what to look out for and what could happen. It also spurred me to look up the law in my own state so that I could be forearmed on Tuesday. I also intend to bring my phone with me and take pictures if I see something untoward. I live in a largely Hispanic voter poling district so at this point I think anything is possible. Lincoln Journal Star: Election Officials Prepare For More Voter Challenges At Polls
As always the most important thing is to get the vote out. Share the information with your followers.
You can look up the voter challenge rules pertaining to your own state through this link: A pdf listing of the laws in each state
More Posts by GrannyMumanToog