By GrannyMumantoog, a Trail Mix Contributor
I feel compelled to write a piece about the Broadway show Hamilton. The reason is that I just finished watching the PBS special that originally aired on 10/21/2016 called, Hamilton's America! This is an amazing behind the scenes look at the show, it's creation and, most importantly, the history of our country.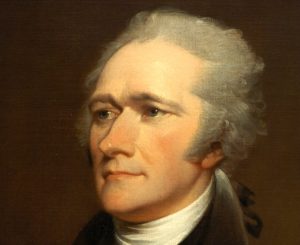 I was watching the Tony Awards in June and was enthralled watching Hamilton win award after award, totaling 11 by the end of the night. I've seen various snippets of the show on YouTube and heard most of the soundtrack. I've seen/heard enough about it to know it's something that I'm interested in. I will definitely see Hamilton the moment any local theater group presents it, as I have done many times in the past for other shows. It won't be the same cast, but the words and the power of the piece should be transferable to any theater production. It's tough to be a Broadway lover when you can't get to Broadway, but we make do.
If there is anyone who, like me, thinks they know about Hamilton, the musical. If you've heard anything about Hamilton, seen YouTube videos, think you know what it's about, even if you were lucky enough to see in live on Broadway you must watch Hamilton's America!
Not only does it showcase the genius of Lin-Manuel Miranda who is described as a modern Shakespeare, and the other creators and cast, but it's a history lesson. I would venture to say that it's one of the best history lessons I've ever had about this group of founding fathers.
It was impressive how much the cast had imbued themselves with the history of the characters they were playing. I was blown away by how well they not only knew their characters, but how well they understood them, warts and all. I think what makes Hamilton unique is that they show how human and flawed the most revered people in history can be, but they also show that their flaws don't cancel out the good that they did.
There are many familiar people in this program talking about our history and Hamilton, the man and the show. You'll all be happy to see our favorite Senator from Massachusetts 🙂 She's brilliant, as always. President Obama has a lot of very eloquent things to offer as well.
I could go on, but I don't want to spoil it. I really want you all to try and watch Hamilton's America if you can. If you have a Roku, it's on the PBS station until 11/18/2016, that's where I watched it. I believe it may also be on the PBS website and may be time limited there as well. It's runs for 1:22.
I hope you love it as much as I did and I'm looking forward to some discussions about the show, the people involved, the history of our country and how this all still applies today and anything else that it moves you to talk about.
Happy viewing!
More Posts by GrannyMumantoog