By Dvitale300, a Trail Mix Contributor
I've seen lots of posts and comments about whether or not Clinton should debate Trump.  Now, the common wisdom is that if a candidate is really ahead – they should avoid / diminish the number of debates.  After all, if you are going to win – there's no upside to debating – only a downside – let's say you curse at your opponent, or compare yourself to Kennedy, or perhaps misspeak about what territory Russia is controlling!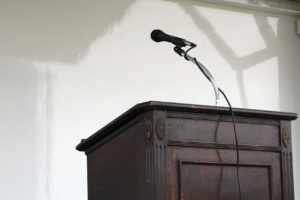 Fearless leader says Clinton should not debate Trump.  I'm leaning in that direction.  I thoroughly believe that the media (whatever that means) is not interested in a debate, a discussion of contrasting ideas on how to solve such major issues like immigration reform, crime in cities, overpopulated prisons, foreign trade agreements, etc. . .  Instead, a media faced with the possibility of an electorate bored with a foregone conclusion, is focused on instigating a cage fight between two septuagenarians.  We won't see questions about how the United States should handle Syrian refugees, but rather we will see questions about who is the biggest bigot.
In an interesting post, Steve McQuinn from Quora, gives his sage advice to Clinton as to how she should approach the Presidential debates:
"My advice to Hillary:
Do not ever engage Trump directly in verbal exchange, do not respond directly to his provocations. A debate is not a dialog. A shouting match of zingers and putdowns will only depress the turnout.

Keep nonverbal reactions to Trump very subtle and mild. Don't roll your eyes, just raise your eyebrows. Don't laugh out loud, just smile wryly. Respond to Trump's style with a deconstruction of his demagoguery, directed at the audience in terms that show Trump is disrespecting the audience.

Respond to Trump's misstatements with simple, informative corrections that not only set the record straight, they educate the audience without being condescending. Use down to earth metaphors, analogies, and stories about real people.

Always speak to the audience, not to the moderators, who are mostly interested in provoking spectacle. Everything uttered should be couched as values that serve people. Everything should be a positive assertion of faith in the best of human nature.

When in doubt about how to conduct yourself, ask yourself, "What would Elizabeth Warren do?"
So what say ye Trail Mixers?  Should Clinton debate or not – and what should the strategy be if she decides to?
More Posts by Dvitale300