"The mood will pass, sir."
― P.G. Wodehouse, The Code of the Woosters
By Blue Bronc, Trail Mix Contributor

Although the thought had been nascent for several years, it once again arises – Obama really is a Blue Dog Dem. Those early years of giving the cookie jar and a few muffins to the Republicans for budget and other lesser things were taken that he was very naïve and trying to compromise, but it is now apparent that was incorrect. When every year he gave the Republicans the piggy bank and a few extra cupcakes to pass something or other, it seemed he was trying to compromise.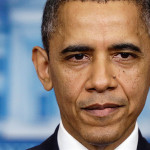 But, nay. He really has been running the White House on the edge of Republican left or center right of the Democratic platform.
To even float a Republican for Supreme Court is beyond comprehension of this Democrat. It is beyond any scify scribblings I could come up with. The Republicans have treated him like a door mat. They have treated him as they would scum on a pond. The Republicans do not like him, or anything about him.
And, yet he is still trying to play nice with the as*(&les.   He has the opportunity to finally turn the Supremes toward Americans and away from corporations. But, he comes up with a Republican. He can finally turn the Supremes to the left of right. His answer to the question of who should be on the bench is a Republican?
One hundred million Dems or Near Dems in fifty states, a district and many territories and protectorates. And he could not find one Democrat qualified to be a Supreme Court Justice? His true colors are now revealed. (Fifty very nasty swear word sentences removed.)
He could not find a Democrat; he could not find a liberal or progressive in our country? He had to go with a Republican. Horse apples.