I am saddened these are the days to send off Joe Biden. Tributes to him yesterday in the Senate, from both parties, were moving. But still, I wish he had gone further. The guy is real, approachable and authentic amidst so many phonies. Many times I've experienced memorable encounters with Biden, from covering his presidential campaigns to hanging out in airports, and I cherish them all. Like the day our flight was horribly delayed and I took a shot at sitting next to him to chat.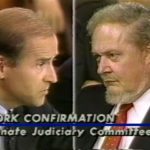 We talked about the Supreme Court, and his pivotal role in the Robert Bork hearings, which I had covered. He said, "We dodged a bullet on that one, but took so many more."
Yep, he got that right.
The Clinton/DNC mafia forced him aside in 2016, a sad and disgusting truth that will someday be told.
Those arrogant fools ridiculed hum as a joke. But the joke is on them.
Would Joe Biden have lost the entire Rust Belt?