By Patd, a Trail Mix Contributor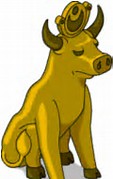 He, She or It giveth and taketh away.  God Google reigns. On the road to secular Damascus, it was either bow down and believe or lose my youtube soul music.  No longer could the sinner hide. Name, email address and age are now written in the books of the mighty, building many mansions and amassing gold for the google galaxy.
OMG, please be merciful and hear our pitiful plea to protect this ignorant trusting participant from evil hackers.
More Posts by PatD