By Blue Bronc, a Trail Mix Contributor
When did you decide to be straight? Did you know?
Sirius Radio and XM Radio were competitors in the early days of satellite radio. Due to cost and only so many people willing to pay to have radio in the middle of nowhere, or a lot of channels of talk and music, they were losing money and merged.  One of the channels was OutQ, the first LGBTQ radio channel that had more reach than local.
OutQ provided listeners with gay broadcasters, gay news and a place for LGBTQ people to have a station which confirmed they existed no matter where in the Northern Hemisphere they lived.  I bought Sirius just to listen, back in 2007.
I remember so many of the extremely few reports in the media of the channel as "Sirius XM is really going out on the ledge to allow them gays to have a radio channel"  That is 2007+.  At least now we have a lot more going for us.
Yeah, sure.  SiriusXM killed OutQ in early 2016.  So much for the gay channel.  Should have heard the excuses when I stopped.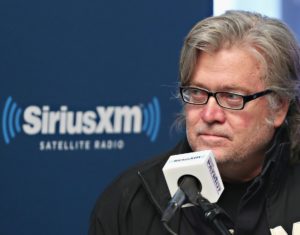 But, to make the world feel better SiriusXM has hired Steve Bannon to bring a bit of the great white supremacist life to radio.  That is quite the trade off.  Open life versus hate and whites only.
So……..
It is time to get rid of SiriusXM completely.  I had already dumped off one radio due to the tossing of the gays overboard.  Now it is time to dump the  other radio for bringing in something that would be scrapped off the feedlot.  I no longer need satellite radio to drive across the country.  Cell phone coverage is getting much better now.
HUFFPOST: Seth Rogen won't do SiriusXM press tour because of Steve Bannon
More Posts by Blue Bronc