By Blue Bronc, a Trail Mix Contributor
From the first time man (or woman) tried to go farther than his arms and legs could go, and found some reeds or a log or something that floated on water it was time for blessing of the fleet.  Nowadays it is for recreational purposes and for commercial fisherman (neutral term) to not sink or to find fair havens or better shrimp, fish or crabs.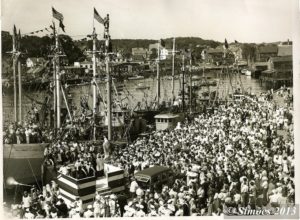 Blessing of the fleet may seem weird for those who are not religious, but it is not — if you believe there be a god or goddess. One of the better parts of the blessing of the fleet is it won't hurt, and it might even be good.  And, it is an excuse for those so inclined, it starts the opening of the beer, wine and hard stuff before noon.
A week after the floater lost his fleet, CVN-70, it seems it is still not off the coast of crazy and starved N. Korea.  When I was in the military Korea was a 13 month combat zone.  Later it changed, but right now I am guessing some are looking at making it a short tour combat zone tour again.
Did you notice how fast the senile old man dropped attacking Korea?  Did you notice how fast he has dropped all sorts of things?  Yeah.  He writes an idiotic tweet and drops it a day or so later.  His short term memory seems to be really short.  There seems to be only a couple channels of long term memory too.
It is important for the country to know that this federal government shuts down April 28 midnight unless a couple of R's change their minds.
More Posts by Blue Bronc